SPORTSCO Loyalty Points Program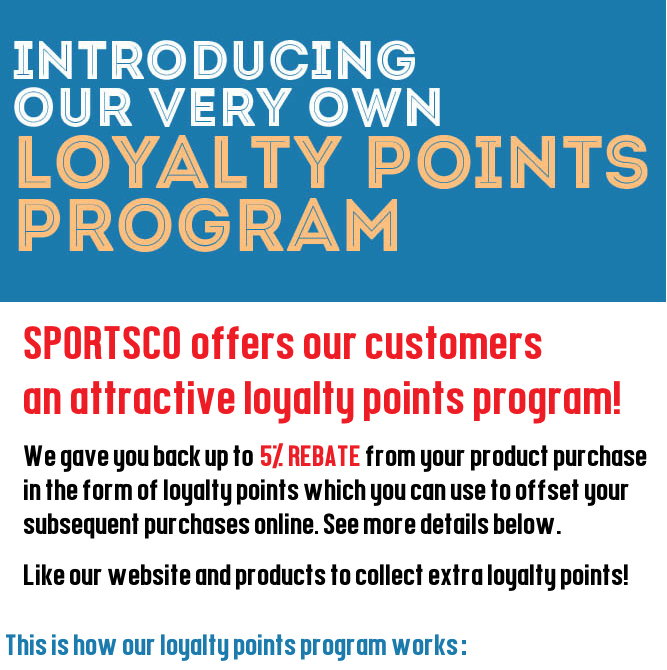 How much is your loyalty points worth?





1 loyalty point is equivalent to S$0.01
50 loyalty points is equivalent to S$0.50
100 loyalty points is equivalent to S$1.00
How to earn loyalty points?



Sign up with us

New customer who sign up for online account with us will earn 50 loyalty points
Customer who sign up for our newsletter will earn 10 loyalty points (sign up from my account or shopping cart page)


Spend with us

Every S$10 spent will earn you 50 loyalty points = S$0.05 (equivalent to 5% Rebate which can be used for subsequent online purchases)
Please see below on what earns less loyalty points or does not qualify for loyalty points


Share about our website and products with your friends

Like, Google+ and Tweet

our products

by clicking the designated buttons in our product pages and earn 5 loyalty points each. You can repeat this for every products!


Refer friends through your "Account" page and earn 50 loyalty points for the first valid order of each referred friend who spend a minimum S$20 with us.
What does not qualify or qualify for less loyalty points?



Product on promotion, combo deals, free shipment may earn less or no loyalty points since the product has already been pre-discounted
Product with price below S$10 would not earn any loyalty point
Shipping fee, processing and payment fee (where applicable) do not earn any loyalty point
How to redeem my loyalty points?



You can redeem your loyalty points by purchasing online using our website
In the checkout page, you can choose how many loyalty points you want to redeem to offset your current purchase amount
You need a minimum 200 loyalty points to redeem your loyalty points
Redemption can be made in 100 loyalty points block
Amount available for redemption during checkout is cap at 10% of the total product purchase amount rounded down to nearest dollar
Points cannot be redeem if you are using coupon code or other promotion for your current purchase
When would my loyalty points be credited?



Your loyalty points will be credited after we confirm that we receive your payment.
Would my loyalty point expire?


There is no expiry date for your loyalty points.
How to check how many are my loyalty points?


You can login to our website and check your total loyalty points accumulated under "My Account" page, then select "Reward Points" at the link located at the left column.
All Rights Reserved


SPORTSCO reserves all rights to update the terms and conditions related to our loyalty points program stated in this page at anytime. If you have any other queries, please contact us at sales@sportsco.sg